This post contains affiliate links where you can purchase products and I may earn a commission with no extra charge to you.
When I saw the trailer for Firefly Lane on Netflix, I knew it would be right up my street. Sarah Chalke is as adorable as ever as coy Kate Mularkey, the best friend of loud, larger-than-life Tully Hart, played by the never-seems-to-age Katherine Heigl (who looks fabulous as a brunette, by the way!). The story is based on the novel, Firefly Lane, by Kristin Hannah.
The show flashes back and forth between several decades, focusing on Kate and Tully as teenagers in the '70s and watching them grow in confidence and love, right up to 2003 when Kate is a full-time Mom and Tully has her own daytime show called 'The Girlfriend Hour'.
Immediately, we understand the dynamic between the pair. Tully Hart is bubbly and sure of herself, knowing exactly what she wants in life and not being afraid to go and get it. Kate, on the other hand, is happy to fade away into Tully's shadow, just happy to be in her presence and revelling in her orbit.
However, even though this friendship shows that they are both always there for each other and as close as close can be, there's a constant sense that Kate is wary of Tully's ability to own a room as she also tends to own the attention of Kate's love interests, both in the '80s and in modern day.
We quickly learn that the man who constantly searches for Tully in a crowded room during the '80s is the one who Kate secretly loves. Johnny Ryan (Ben Lawson), who both of the girls work with at a broadcasting company, clearly holds a torch for Tully for a long time and they seem, somewhat, like kindred spirits: lone wolves who are destined to be single forever, enjoying the rollercoaster of life and never wanting to get off… that is until we realise that he is the man that Kate marries and has a child with. Oh dear!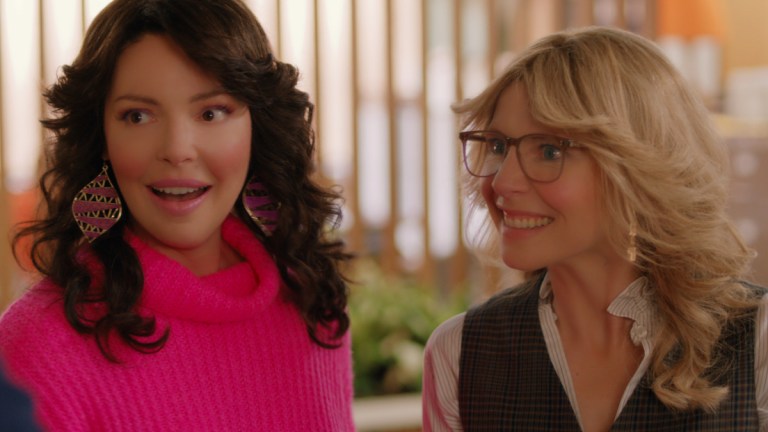 Tully and Kate's childhoods are completely different. Kate lives in a family home with her parents who are happy to coast along whether they are happy or not, and her secretly gay brother. Tully's Mum (Beau Garrett) is a deadbeat, drug-fuelled hippy called 'Cloud' who really doesn't care what happens to Tully. Both of these childhoods confirm why the girls' personalities are the way they are (it's pretty textbook) but that doesn't mean we're any less hooked on the show.
I watched the series in about two days as I was desperate to find out more about the girls' friendship. I was completely drawn in by Katherine Heigl's performance as Tully Hart and I just needed to know what she would do next. She's pretty badass!
The show ended on a major cliffhanger as, at Kate's Dad's funeral, we finally learn that Tully and Kate are no longer on speaking terms. Yikes! Whatever happened must have been huge and I, for one, cannot wait for season 2 to find out more.
Have you seen this show? What did you think?
Loulabella xoxo