This post contains affiliate links where you can purchase products and I may earn a commission with no extra charge to you.
If you have recently been asked to be someone's bridesmaid, I want to say a huge congratulations. It's not a role that is awarded lightly and, therefore, you must be someone who is very special to another person; whether that be friend or family member.
However, once the initial excitement wears off, it can become quite a daunting role as you do have quite a lot of responsibility on the bride and groom's special day.
For some, they may find being a bridesmaid a breeze. They may think it's a day of looking fabulous (which it is) and getting drunk (which it also is!), but don't forget that the bride will have been planning her day for a very long time and to the finest detail. She (or he! It's 2020, people!) will have got every single, tiny detail mapped out, including timings and attire and decor. The bride will even be worrying about what other people do on this day she has been planning for and spending so much money on. Although it may seem minuscule to others, one tiny err may be what defines that wedding day so, as one of the happy couple's chosen special people, you can help to make sure that doesn't happen… and here are some tips on how to be that perfect bridesmaid.
The bride (and groom) call the shots
It may seem so obvious that "whatever the bride wants, the bride gets" but it's definitely a thing. Bridezillas have become more and more popular and even quite comedic. However, there's a reason for that. They're spending a hell of a lot of money on this wedding and there's nothing more frustrating than someone trying to change it.

As bridesmaid, you can offer advice about things (that's why your friend/sister/cousin etc trusts and loves you) but try not to push the things that you want. If you're absolutely horrified by the choice of colour scheme, for example, then that's absolutely fine, you're allowed to be – just don't tell the bride that. Maybe say, "oh, that's nice but have you tried…" and then gauge the reaction when you offer an alternative. If you can sense the bride is not going to budge or is feeling a bit hurt by your questioning, don't push it. Chances are, she's got an interfering Mother or Mother in Law for that anyway.
Get to the know the other bridesmaids
If there are a few of you in the bridal party, get to know them. Set up a Whatsapp group and try to include everyone. Even when one or two may seem a bit distant or flaky, include them anyway. It's tough sometimes but at least you will know that you've done everything in your power to make everyone feel involved.

You may feel that setting up a Whatsapp group to bond the bridesmaids is more of a Maid of Honour's role, and you're probably right, but there are times when the MOH is a bit laxy-daisy about things and the bridesmaids may want to step-up. Also, it may be the MOH's first time doing this and s/he may feel a little out of their depth.
Once you've set up the Whatsapp group, suggest going for drinks or brunch (with the bride, of course!) so that you can all bond. You may even be the one who feels like you don't know the rest – just always try and make the effort to get to know them as you will have a much better time on the hen do and the wedding day if you do.
Plan the best hen party
Again, this may be more of a MOH role but she will certainly need help with the preparations. Hen parties are about tailoring it so that it's special and unique to the bride and her bride tribe. If you have fun memories that you want to include in hen party games, include them. If you see something in a shop that you think the hen will like, buy it. You all have unique bonds and the hen party is about tying them all together.

I know that some people have had experiences where the MOH has made it more about her and the bride, and any extras suggested have been dismissed. This is a tricky one and you may feel really disheartened when your ideas are brushed aside but take them with you anyway – try and get the bride on her own for five minutes and share them then. Again, your bride loves you and she will be ecstatic that you've shared something sentimental with her during a time that's all about her.
Set aside some cash for expenses
Weddings are expensive, and not just for the bride and groom. Bridesmaids may be asked to buy their own dresses or their own accessories (and this is on top of the hen party expenses) and you may even want to club together to buy a special gift for the happy couple for the morning after the wedding. The prices quickly mount up and it can be traumatic if you haven't set any money aside.

Also, a word of warning… a sneaky fee may pop up for any dress alterations you may need for your bridesmaid dress. The smallest alterations can cost about £25 so be prepared, especially if your dress needs to be altered a fair bit.
Include the Mother of the Bride and Mother of the Groom
These two special ladies are going to be feeling all sorts of emotions, not only on the big day but also during the run up to it. They may need you to help calm their nerves or help with some preparations – they will be so grateful for your help and consideration.

They are also going to love being part of the girly group so try to make them feel included as much as possible, especially on the hen do and on the wedding day.
Discuss ALL ideas with the Bride
I'm throwing this one in as I've seen a few people in Facebook groups share their worries about bridesmaids wanting to change elements of the day and, in particular, their outfits.

Personally, I find this a really bizarre thing for bridesmaids to want to do and completely understand the brides' concerns but, hey, each to their own.

If you wish to change from your bridesmaids dress to a party outfit on the evening, please please please double-check that this is OK with your bride and, if it's not, respect that. I really appreciate that not all girls feel comfortable in a formal dress but this is just for one day and it will be such a shame if you don't look like you're part of the bridal party on photos (remember, most photographers stay till quite late to capture the evening moments) or when the evening guests arrive – they want to see your dress too!
Check in on the bride
As you all know, 2020 has been a horrific year for so many people and certainly for couples who were due to get married this year. Experiencing this frustration first hand, I know how difficult it has been to not only deal with having to wait longer for our special day but, also, the hassle of moving everything over to a new date (venue, suppliers, honeymoon flights and destinations etc) – it's been a real ball ache and not everyone has been as lucky as us with it being a smooth transition; I know many couples have lost these bookings or have incurred additional fees.

So, just check in with those couples to see if they are OK (it's amazing how the smallest thing can impact a stressed-out bride or groom's mental health) or if they need a hand with anything; sometimes, just a listening ear and a bottle of prosecco is enough but your bride may want help with re-doing invites or making 'Change the Date' cards.

Seriously, just knowing that our bridesmaids are there for us is a golden treat.
Help with making invites/decorations
Some of my favourite memories for planning my wedding have been making the invitations and decorations (Pinterest and Facebook groups are fantastic for DIY ideas) but it's such a mammoth task doing it on your own.

I enlisted the help of my bridesmaids and we had so much fun decorating jam jars with a glue gun in one hand and a glass of Prosecco in the other. The day was filled with laughter and we put some old-school cheesy pop onto Spotify so it became nostalgic as well; decorating 50+ jars seemed like a breeze in the end.
Pack a pair of flats
Now, I'm not someone who can wear high heels very well so I'd be the one shuffling from one foot to the other after hours of standing in skyscraper heels. However, I would certainly practise walking in said shoes prior to the wedding so that I don't stumble as I enter with the bridal party (as well as stock up on those gel cushions that you can stick inside) and then I would have some lower heels or flats for later in the day. Most bridesmaid dresses are floor-length so you should be able to get away with wearing flatter shoes without anyone knowing.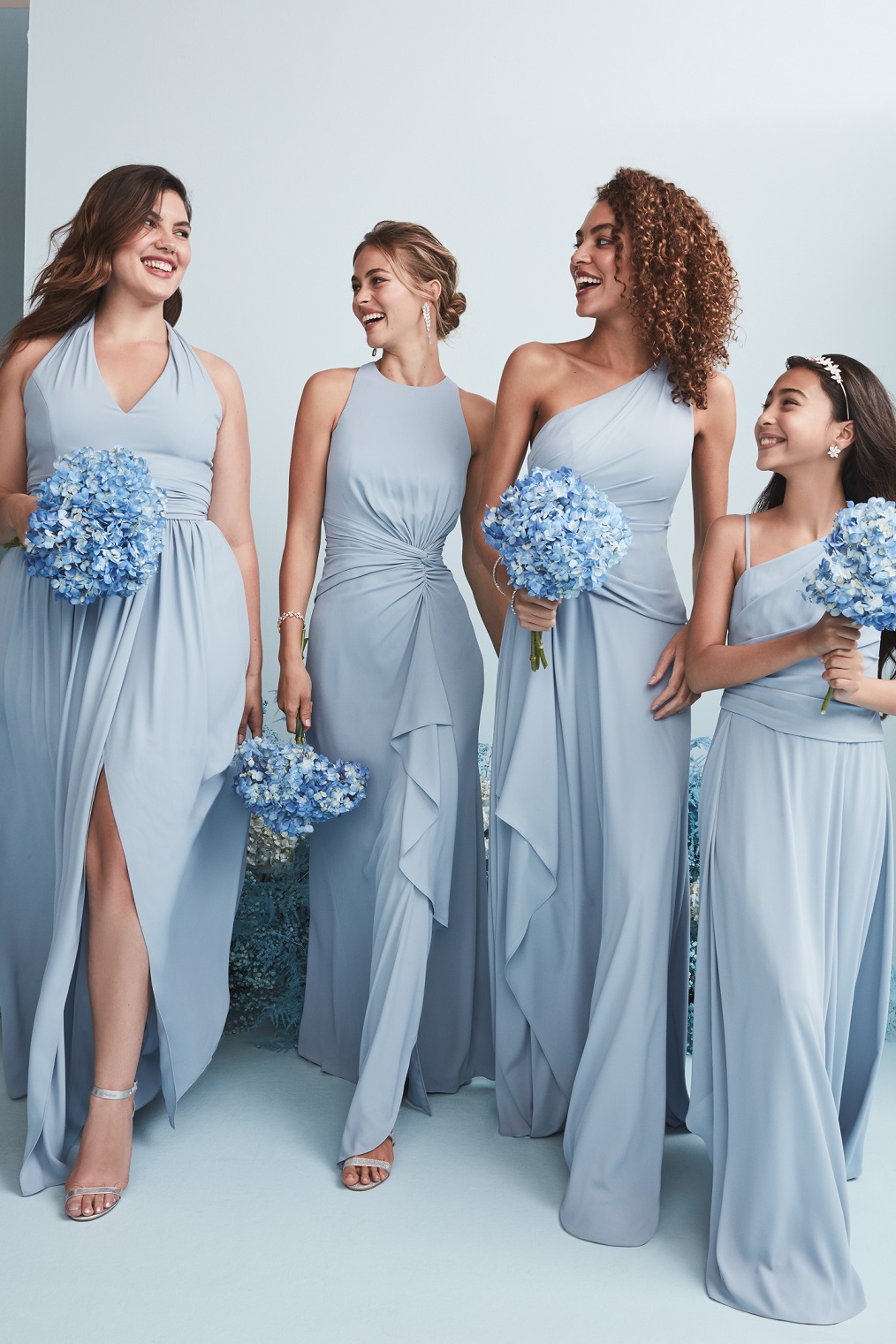 If you can swing it so that you wear flats for the whole day though, perfect! Remember what we said about gauging the bride's reaction? This could be one of those times.
Don't be the flake
In one of the earlier tips, I suggested making an effort with the other bridesmaids, even the flaky, unresponsive ones. However, I'm now going to suggest that you are NOT the flaky, unresponsive bridesmaid.

I've seen many posts in the bridal facebook groups of brides being upset that one of their bridesmaids is uninterested and/or unresponsive when it comes to bridal party get-togethers. Remember, you've been chosen to be bridesmaid as a special gesture because your friend/relative loves you and wants you to be part of their special day. From what I've seen, it gets really awkward when the bride is informed and it can start getting ugly, which is such a shame as no one wants anyone to be the odd-one-out on the day. Please try not to be that person! Fake it till you make it!
If you've been given a job – fulfil it
These jobs may be big responsibilities where you have to keep Auntie Margaret and Uncle Gordon away from each other as they may cause a scene after downing a few shandies or they may be small responsibilities where you have to help the bride with her dress when she pops to the loo. Whatever the responsibility, big or small, do it.

I've had one friend tell me before that she'd asked one of her bridesmaids to refill the sweet jars on the sweet cart… and she didn't do it. This really p***** off the bride and, like I said at the start, it can be a minuscule thing that can define the day for the bride/groom; this may seem like a really small issue but, on the evening, all the bride could think about was that sweet cart being empty and her guests not being able to enjoy something that she'd paid for. And, also, as a guest… that's one of the main things I remember now too! Yikes!
So, if you have been given a job to do on the day… please, please, please make sure you do it.
Finally… Have fun
I know that being MOH/bridesmaid can feel like such a responsibility (especially after reading this list!) and that you almost have to be on high-alert for the entire day but I promise you will enjoy it. Once the happy couple have said "I do!" and the Prosecco is flowing and the music is pumping, you and the bridal party will be able to enjoy that very special day.
Remember, you're part of the elite group for the wedding day! All eyes are on you and everyone wants to be part of that fun-loving, happy group.
So, there we have it, a list of things to help you with being the best bridesmaid you can be. Maybe this is your first time being a bridesmaid and the list has helped point you in the right direction, or maybe you're an experienced bridesmaid who would like to add some of your own tips to the comments below. Whatever level of bridesmaid you are, I hope you have a wonderful day with your bride tribe.
Feel free to share this list with your group – maybe that flaky, unresponsive bridesmaid needs to see this… (*wink wink, nudge nudge*)
Pop that cork and enjoy your wedding planning, girlies!
Loula Belle xoxo