I've mentioned previously that I absolutely adore Disney. I grew up watching the movies and Lee and I are booked to visit Disney World on our honeymoon in August.
Everyone has a favourite movie, and everyone has a favourite character. Alongside this, everyone has a favourite villain. I definitely feel villains are becoming more and more popular in modern times. I don't think I ever saw Maleficent bags when I was younger.
Below are some of the fabulous Disney villains who have graced our screens over the years and I'd love for you to share your favourites. I'll also be sharing mine with a brief description as to why I love them so much.
Ready?
Maleficent
Ahhh, one of the OGs of Disney. She was terrifying as a child and, even now, she sends a chill up my spine as she is immersed in green fire. To be fair to her though, I'd be pretty miffed too if everyone was invited to a party and I wasn't. The poor woman was completely ostracised and she only had a bird for company – that's enough to send anyone a little bonkers.
Jafar
You know what I love about Jafar? He absolutely rates himself as a stud and thinks he's good enough for Princess Jasmine to be his wife. Even when she's leading him on in that sultry red outfit, he doesn't suspect it's a ruse; he's just like, "Oh yeah! I knew she wanted me!" Playerrrr!!
Ursula
Aha, everyone's favourite sea witch! The one who has so much beef with King Triton that she turns the majority of people in his kingdom into weird, little seaweedy creatures and then tries to ruin his daughter's life by marrying the man she loves. I'm not going to lie, I always thought human Ursula (Vanessa) looked fabulous too.
Scar
Right, now we're at my favourite. I have a whole fan-theory about Scar. I believe he was just misunderstood. He always lived in his brother's shadow and was made to feel like an outcast. I even wonder who actually gave him that scar! That looks like it came from a claw… Mufasa's claw, perhaps? And what a shame that he is known only by his disfiguration. What was his name before? Pete? So, poor Pete has had to live with his big, bully of a brother who always made him feel inferior and then taught his son to do the same. No wonder Pete is so bitter and twisted. He doesn't even have any lion friends to play with which ended with him joining a gang. It's just not fair. Justice for Pete!
Gaston
Here he is; everyone's favourite brute. He probably has the best song out of all the villains too. My favourite moment of Gaston's is when he turns up at Belle's house expecting her to just marry him on a whim. Bold!
Cruella De Vil
Oh, she's mean. Just look at that hair! That hairstyle just screams villain. I have to say, she goes to some extremes to get herself a Dalmatian fur coat.
The Evil Queen
It's worrying that we have a few evil queens in our midst even now; women hating on women because of their looks. I imagine Snow White to stand in a big hall and ask, "Who here as been personally victimised by the evil queen?" I reckon a fair few would raise their hands.
Captain Hook
Is it just me who finds Captain Hook quite loveable? He's another one who's feeling bitter and twisted because of things that have happened to him in the past…by his bully, Peter Pan. And, once again, he's identified by his disfiguration. No one calls him "Captain James", it's like "Oh look, you have a hook on your hand…and you're a captain…let's call you Captain Hook!" No wonder he has such low self-esteem.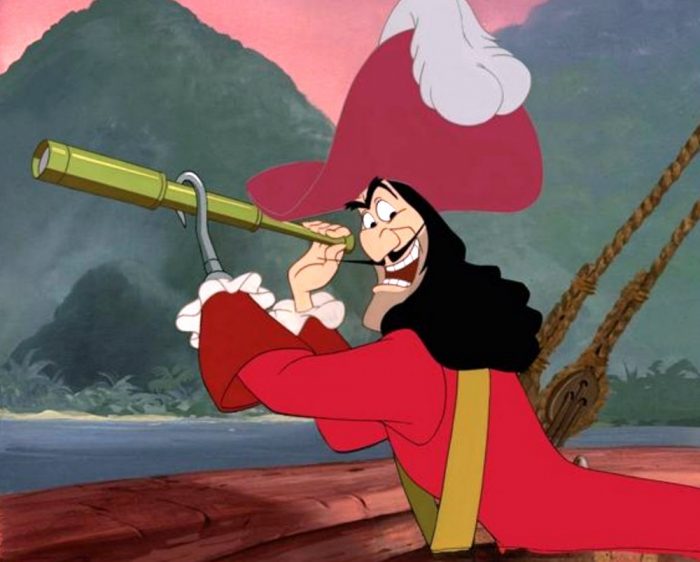 So, who is your favourite Disney villain from the list? Or do you have another one to add? Hades? Prince John? Sid? Hans? Let me know!
Loula Bella xoxo